Handy, dandy Bean Bags
for when you need a little friendly support



The "Magic Bean Bag"


Bean bags: There are times when the tripod is simply impractical, and that's where this simple gadget comes into it's own. I find them indispensable for steadying my telephotos when shooting out the vehicle window. Drape the bag over a car door/window, put it on a fence rail or fence post, on top of a wall, the back of a chair, across a porch railing- you name it - and it will likely conform to give your lens a steady base to sit on. A search on the web will find some to buy, but they can get pretty expensive. You won't find them at the camera shop either. But if you have access to a sewing machine (or someone who sews), I have a better answer for you . . . . Make your own.


Small and medium
bean bags compared
Left: My original medium bean bag - 8 lbs. and Right: slightly larger Magic Bean Bag - only 6 lbs. 3 oz.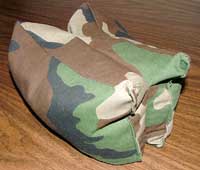 My first small bean bag

The first one I made was a small "double bean bag", shown here from a do-it-yourself article by Scott Fairbairn. His instructions were less than helpful in explaining how the double bag design was suppoed to be constructed, and it took a bit until I understood how to do it. This small bean bag works fine for a 300mm f/4 or smaller lens.

When I purchased my 500mm prime lens, I found the first bean bag was too small for it, so I simply made a larger one from Scott Fairbairn's pattern. This second "medium size" bean bag is shown at left below with my "Flying Saucer Ball Head".

Eventually I had an idea on how to improve on this double bean bag, so I made another medium size bag which I call the Magic Bean Bag. I used better fabric, and incorporated some other improvements, including a zipper, and a design to allow filling both sides of the double bean bag via a single zippered opening. I also achieved a 25% reduction in weight by utilizing some alternate filler material along with the usual dried Pinto bean filler.


The Flying Saucer Ball Head
The Butterfly Bean Bags,
versions I and II
I soon found though that I really needed something a bit taller to use in the window of my truck, so I came up with a totally new design called the "Butterfly Bean Bag". The main feature of this design is that pound for pound you get more bean bag. In other words, a more efficient use of the bean filling makes it work like a larger bean bag, but it weighs less, and weight is something we photographers are always trying to minimize.
Eventually I came up with some improvements for the original, not the least of which is a 6 pound decrease in weight. This article with complete instructions on how to make your own Butterfly Bean Bag version II will walk you through it with over 60 instructional photos.

Check out my easy to make Flying Saucer Ball Head to use on your bean bag.