Vanguard SBH-300 Ball Head
(with comparisons to the Acratech Ultimate)


Through 40+ years of photography I seldom ever used a tripod, much preferring the freedom of handheld shooting. After I switched to DSLRs, and finally got my 500mm f/4, well, that changed everything. I very quickly learned a tripod was an absolute necessity with such a monster, and eventually added a Gitzo 1548 CF tripod and Manfrotto 393 gimbal to tame the beast.

Something else changed as well after the acquisition of that 500mm. My subject matter ratio soon shifted from 50% birds/wildlife and 50% nature/landscape/scenic to 95% birds/wildlife and 5% nature/landscape/scenic. After that I slowly relented to dragging along a tripod with my other lenses as well...albeit a smaller tripod .... a Gitzo 1348 CF. My first ball head for the 1348 was the Acratech Ultimate, which I bought used. That tripod/ball head combo was more than sufficient for my other lenses (17-40mm, 24-105mm, 70-200mm and 300mm). The Acratech Ultimate has served me well, although as you can see by the subject ratio of 5% to 95%, I really don't use it very often.


| | | |
| --- | --- | --- |
| | | |
| The Acratech's lightweight open diagonal design. | The Acratech's limited tilt opposite the "drop" side or "notch" side, and excess tilt beyond 90° the other way. | |
The Acratech Ultimate had been the first (or certainly at least one of the first) of the radical new breed of "cut-away" ball head designs .... lighter, but odd-looking. I'd never had the experience of using a standard "dome head" design ball head, so I had nothing with which to compare the Acratech. I just accepted it and used it, and was never actually dissatisfied with its performance.

However, a couple of things about the Acratech bugged me. One of those issues was the lack of tilt range in one direction, caused by the diagonal design of the ball base. The other issue was too much tilt in the opposite direction, when laying the camera over for vertical shots. It stopped some 2-3 degrees beyond vertical and had to be adjusted back to vertical before locking the ball. This in turn made it more likely I would bang the body against the tripod when the body itself was attached to the clamp, as opposed to using the lens foot as the mounting point. None of this was a deal-breaker, and I used it as it was, though I quietly wished I could do better.

The real issue and impetus for getting a different ball head came about because the Acratech is the ONLY head I've ever owned with an Acra-Swiss type clamp, which I never liked from the first time used it. This has nothing to do with Acratech at all, but strictly with the Arca-Swiss style clamps on ANY product. I have pontificated on the safety issues with Arca-Swiss clamps before, and would never ever use one with any lens in the weight class of a 500mm. I let this issue with the Arca-Swiss clamp slide for awhile because I used it only with smaller lenses. Finally though I decided this insecure, unsafe clamp had to go. So I went looking for another ball head, in hopes of solving all three issues with the Acratech.

I checked out several brands recommended by members of my favorite photography forum, one of whom touted the Vanguard brand, among others he'd owned. Although made in China (which to me automatically implied a high probability of inferior materials and lack of quality) I could find not one single bad review among the many good reviews I read from several sources. Finding that it was available from B&H Photo (which for me implied some modicum of credibility) I checked it out.


Front and back comparison views of the Acratech Ultimate
and Vanguard SBH-300 ball heads
Above: Comparison of the
Manfrotto 357 clamp on the
393 gimbal, and the QS-45
clamp on the Vanguard SBH-300.
Right: Both plates compared.


What I discovered was that the Vanguard SBH-300 came with a clamp and plate very reminicent of the Manfrotto 357 Pro Quick Release adapter which I so respected for its safety features (the one I use with my 500mm and 393 gimbal). That was the clincher. I decided to give it the benefit of the doubt and ordered the SBH-300 and two additional plates. At just $99 for the ball head, and only $15 for each additional plate (as opposed to the ridiculous $50+ each for any Arca-Swiss style plate), if it didn't work out I really wasn't out that much money. Besides, B&H would probably stand behind it if I was dissatisfied. It was a worthwhile gamble.


Base comparison: The Vanguard
base diameter was a perfect
match to my Gitzo 1348 tripod.


The Acratech issue of
over tilt beyond vertical was
improved with the Vanguard.


When the ball head arrived, I found the finish and detail of workmanship to be quite suitable. The instruction sheet was absolutely minimal in scope, but I guess they had to leave room for the other 13 languages it covered. The English translation was not perfect, but better than most I had seen.


Tension knob dial markings.



The ball head base has a 3/8 thread hole to mount onto the tripod. It came with a 3/8 to 1/4 stud adapter insert and a tool for removing or installing the insert. The Vanguard base diameter is larger than the Acratech, and turned out to be a perfect match for my Gitzo 1348 tripod.

The Vanguard has both a tension knob and a lock knob, a welcome change from the single knob of the Acratech. I find it easy to get just the right tension setting, even with a 7D and 300mm f/4 mounted. The tension knob does not have Arabic numeral markings, but instead has dots like those on dominoes. This seems a very Chinese-centric solution, but if you think about it you will realize it works in any language. I expect though they will be harder to read in poor lighting than larger single digit numbers would be.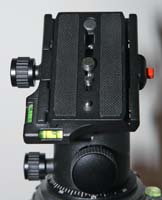 Ball head with plate inserted showing the 2 bubble levels and red safety catch release button.

The panning lock knob holds firmly, yet does not offer to bind when I go to loosen it. The ball motion under tension feels so smooth I almost believe I could follow BIF shots with the ball head as if it were a gimbal, though I doubt I'd ever actually try BIFs with any ball head (and certainly not with a lens that could be otherwise handheld). The tension knob will tension the ball, and the lock knob will lock it, but not in the manner expected. I eventually found issues with the tension and lock knobs, so read my "Issues?" paragraph at the bottom of the page for an explanation, and decide for yourself what you think.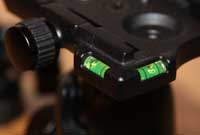 Two bubble levels molded on the
outside edge of the clamp are
easily visible.



Two bubble levels are intelligently located at the outer edge of the clamp base where they can be easily seen (not hidden under the clamp plate as in at least one high-priced Arca-Swiss style clamp I came across in my research of ball heads). The clamp features a spring loaded safety catch pin that engages when the plate slides into the clamp. It does not have the distinctive and reassuring loud click when it engages as does the Manfrotto 357 clamp I'm so used to, but it engages nonetheless. You must slide the plate in because the clamp jaw does NOT spread. Once the plate slides into the clamp, it cannot fall out, even if you forget to screw down the clamp knob. You must press the red button to release the safety catch in order to slide the plate out. These safety features were exactly what finally convinced me to try this ball head. The clamp knob requires only about a 3/4 turn to tighten fully.

The Vanguard clamp knob easily clears the base panning scale ring and tripod when flipped into the vertical slot as shown at right. This provides an improved vertical angle over the 2-3 degrees past vertical tilt error of the Acratech, but the Vanguard is still off by about 1/2 degree past vertical. That's pretty close but not perfect.


The slot for vertical shots is
improved over the Acratech, but
still off by about 1/2 degree.



One clamp plate was already included with the ball head. Since I ordered two additional plates, I have plenty to go around. In fact, at just $15 each, it's quite ecomomical to have one for every lens or body you might use with this ball head. Another nice feature is that the corners of the QS-45 plate are beveled, which guides it into the clamp more easily than the Manfrotto plate, which is not beveled. Each plate includes both a 3/8 and 1/4 screw. The QS-45 clamp base has two threaded indentions where you can store one of each size screw when not in use, which is another intelligent feature similar to the Manfrotto 357 clamp.


"Flying Saucer Ball Head"
with Manfrotto 357 clamp.



One review I read of this ball head noted the QS-45 plates will fit the Manfrotto 357 clamp but not vice-versa. I can confirm that. The larger, longer 357 plate won't fit the ball head clamp since the plate is about 1/8 inch too wide. The only issue with the QS-45 plate in the Manfrotto 357 clamp is that the safety catches on the two clamps operate a little differently. When you slide the smaller plate into the 357 clamp, the safety catch will engage and hold it from coming out. However, you will discover the catch will not disengage when you press the release button. After a little fiddling with this problem I found that simply lifting the plate a little while the clamp is loosened allows it to slide out over the catch pin. Now I know that in a pinch, I can use a lens with the QS-45 plate in my Manfrotto 393 gimbal. Since I also have a 357 clamp on the "Flying Saucer Ball Head" I created for bean bag use, I can now slip other lenses onto it just as I do the 500mm with the large plate. That's going to be a handy side benefit.


Vanguard SBH-300 ball head with
7D and 300mm f/4 L mounted.



Round-up of specs and features:


| | | |
| --- | --- | --- |
| Weight - 1.66 lb. | Tension/ball friction knob | Lightweight Magnesium Alloy |
| Capacity - 70 lb. | Ball lock knob | Includes quick clamp and plate with safety catch |
| 2 bubble levels | Pan lock knob | Tilt range - 40 degrees plus one 90 degree slot |

As to the weight capacity rating of this Vanguard, or of any ball head for that matter, I would take any of them with a grain of salt. For example, who has a 70 lb. lens in the first place, and would your tripod even take that? Lets stick to common sense and reason here. I would not use any lens on this ball head larger than a 400mm f/5.6, 100-400mm f/4.5-5.6 or 400mm DO. The same thing goes for ANY ball head, no matter how many tons it's "rated" to handle. Why? Well, my take on the matter is... if it's large enough for a gimbal head, then it should be on a gimbal head and not a ball head. Safety first! I think a combination of body and lens weighing up to 6 or 7 pounds will do well on this ball head. Above that range, I think the handling and stability would become somewhat tenuous.

Issues?
Are there any negatives to this ball head? That 1/2 degree error in the vertical slot was the first negative, but I'm not sure it's any worse than the expensive ones. After considerable time in the field with this ball head I realized there is some unexplained interaction between the "tension" knob and the "lock" knob. You can set a tension, then lock it down with the lock knob, but if you then alter the tension, it is no longer locked, and the lock knob will turn further than before to reach a lock mode. That in turn alters the tension setting for the same tension feel. So, it appears that neither is actually a tension knob. They both act essentially as lock knobs and do not actually allow any preset tensioning. That's not how I expect a ball head to work, and a big reason I would NEVER use a heavy lens on any ball head. What good is it if you just locked it, only to find it isn't, or the tension you just set no longer provides any tension? In my book it's worse than useless, it's dangerous. The only half way safe thing you can do with it is flop it over into the slot and use it like a gimbal.

In the final analysis I can only recommend this ball head for basic use on lightweight gear, with the knowledge and understanding of how the tension and lock knobs "sort of work". For a $100 class ball head it does the job, but with caveats. As long as you understand what you're getting, it might work for you.